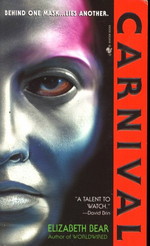 In Old Earth's clandestine world of ambassador-spies, Michelangelo Kusanagi-Jones and Vincent Katherinessen were once a starring team. But ever since a disastrous mission, they have been living separate lives in a universe dominated by a ruthless Coalition—one that is about to reunite them. The pair are dispatched to New Amazonia as diplomatic agents Allegedly, they are to return priceless art. Covertly, they seek to tap its energy supply. But in reality, one has his mind set on treason. And among the extraordinary women of New Amazonia, in a season of festival, betrayal, and disguise, he will find a new ally—and a force beyond any that humans have known….
Udgivet af Bantam Doubleday Dell Publishing Co., Inc.
Elizabeth Bear
Sarah Bear Elizabeth Wishnevsky (born September 22, 1971) is an American author. Writing under the name Elizabeth Bear, she works primarily in the genre of speculative fiction, and was a winner of the 2005 John W. Campbell Award for Best New Writer, the 2008 Hugo Award for Best Short Story for "Tideline," and the 2009 Hugo Award for her novelette "Shoggoths in Bloom."[1] A native of Hartford, Connecticut, her curriculum vitae includes working as a "media industry professional," a stablehand, a fluff-page reporter, a maintainer of Microbiology procedure manuals for a 1,000-bed inner-city hospital, a typesetter and layout editor, a traffic manager for an import-export business, Emmanuel Labour, and "the girl who makes the donuts at The Whole Donut at three A.M." Until recently, she lived in Las Vegas, Nevada which served as the setting for the short stories One-Eyed Jack and the Suicide King, Follow Me Light, and This Tragic Glass, but she returned to Connecticut in January 2006. Her first novel Hammered was published in January 2005 and was followed by Scardown in July and Worldwired in November of the same year. The trilogy features Canadian Master Warrant Officer Jenny Casey, who is also the main character in the short story Gone to Flowers. Hammered won the Locus Award for Best First Novel in 2006. The Chains That You Refuse, a collection of her short fiction, was published May 2006 by Night Shade Books. Blood and Iron, the first book in the fantasy series entitled "The Promethean Age", debuted June 27th 2006. She is also a coauthor of the ongoing Shadow Unit website/pseudo-TV series. In 2008, she donated her archive to the department of Rare Books and Special Collections at Northern Illinois University.[2] She is an instructor at the Viable Paradise writer's workshop and has taught at Clarion West Writers Workshop.