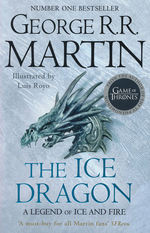 Adara liked the winter best of all, for when the world grew cold the ice dragon came. In the world of A Song of Ice and Fire the ice dragon was a creature of legend and fear, for no man had ever tamed one. When it flew overhead, it left in its wake desolate cold and frozen land. But Adara was not afraid. For Adara was a winter child, born during the worst freeze that anyone, even the Old Ones, could remember. Adara could not remember the first time she had seen the ice dragon. It seemed that it had always been in her life, glimpsed from afar as she played in the frigid snow long after the other children had fled the cold. In her fourth year she touched it, and in her fifth year she rode upon its broad, chilled back for the first time. Then, in her seventh year, on a calm summer day, fiery dragons from the North swooped down upon the peaceful farm that was Adara's home. And only a winter child—and the ice dragon who loved her—could save her world from utter destruction. With stunning illustrations by acclaimed artist Luis Royo, this new edition of The Ice Dragon by George R. R. Martin is sure to become a collector's item for fans of HBO's megahit Game of Thrones.
Udgivet af Harper Collins Publishers U.K.
George R.R. Martin
George R.R. Martin was born September 20, 1948 in Bayonne, New Jersey. Martin attended Mary Jane Donohoe School and Marist High School. He began writing very young, selling monster stories to other neighborhood children for pennies, dramatic readings included. Later he became a comic book fan and collector in high school, and began to write fiction for comic fanzines (amateur fan magazines). Martin's first professional sale was made in 1970 at age 21: "The Hero," sold to Galaxy, published in February, 1971 issue. Other sales followed. In 1970 Martin received a B.S. in Journalism from Northwestern University, Evanston, Illinois, graduating summa cum laude. He went on to complete a M.S. in Journalism in 1971, also from Northwestern. As a conscientious objector, Martin did alternative service 1972-1974 with VISTA, attached to Cook County Legal Assistance Foundation. He also directed chess tournaments for the Continental Chess Association from 1973-1976, and was a Journalism instructor at Clarke College, Dubuque, Iowa, from 1976-1978. He wrote part-time throughout the 1970s while working as a VISTA Volunteer, chess director, and teacher. In 1975 he married Gale Burnick. They divorced in 1979, with no children. Martin became a full-time writer in 1979. He was writer-in-residence at Clarke College from 1978-79. Moving on to Hollywood, Martin signed on as a story editor for Twilight Zone at CBS Television in 1986. In 1987 Martin became an Executive Story Consultant for Beauty and the Beast at CBS. In 1988 he became a Producer for Beauty and the Beast, then in 1989 moved up to Co-Supervising Producer. He was Executive Producer for Doorways, a pilot which he wrote for Columbia Pictures Television, which was filmed during 1992-93. Martin's present home is Santa Fe, New Mexico. He is a member of Science Fiction & Fantasy Writers of America (he was South-Central Regional Director 1977-1979, and Vice President 1996-1998), and of Writers' Guild of America, West.