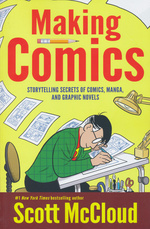 Scott McCloud tore down the wall between high and low culture in 1993 with Understanding Comics, a massive comic book about comics, linking the medium to such diverse fields as media theory, movie criticism, and web design. In Reinventing Comics, McCloud took this to the next level, charting twelve different revolutions in how comics are generated, read, and perceived today. Now, in Making Comics, McCloud focuses his analysis on the art form itself, exploring the creation of comics, from the broadest principles to the sharpest details (like how to accentuate a character's facial muscles in order to form the emotion of disgust rather than the emotion of surprise.) And he does all of it in his inimitable voice and through his cartoon stand–in narrator, mixing dry humor and legitimate instruction. McCloud shows his reader how to master the human condition through word and image in a brilliantly minimalistic way. Comic book devotees as well as the most uninitiated will marvel at this journey into a once–underappreciated art form.
Udgivet af Harper Collins US
Scott McCloud
McCloud was born in Boston, Massachusetts and spent most of his childhood in Lexington, Massachusetts. He obtained his Bachelor of Fine Arts in illustration from Syracuse University. McCloud created the light-hearted science fiction/superhero comic book series Zot! in 1984, in part as a reaction to the increasingly grim direction that superhero comics were taking in the 1980s. He is best known as a comics theorist or as some say, the "Aristotle of comics", following the publication in 1993 of Understanding Comics, a wide-ranging exploration of the definition, history, vocabulary, and methods of the medium of comics, itself in comics form. He was one of the earliest promoters of webcomics as a distinct variety of comics. McCloud maintains an active online presence on his web site where he publishes many of his ongoing experiments with comics produced specifically for the web. Among the techniques he explores is the "infinite canvas" permitted by a web browser, allowing panels to be spatially arranged in ways not possible in the finite, two-dimensional, paged format of a physical book. In 2009, McCloud was featured in The Cartoonist, a documentary film on the life and work of Jeff Smith, creator of Bone.