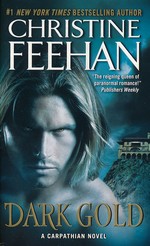 They were masters of the darkness, searching through eternity for a mistress of the light . . . Alexandria Houton will sacrifice anything--even her life --to protect her orphaned little brother. But when both encounter an unspeakable evil in the swirling San Francisco mists, Alex can only cry to heaven for their deliverance . . . And out of the darkness swoops Aidan Savage, a golden being more powerful, more mysterious, than any other creature of the night. The ageless Carpathian male snatches them from a hideous fate. But is Aidan Alex's salvation . . . or her sin? If she surrenders to Aidan's savage, unearthly seduction, and gives him the color, the light, the family he craves, will Alex truly save her brother? Or sacrifice more than her life?
Udgivet af Harper Collins US
Christine Feehan
Christine Feehan (born Christine King) was born in California. She grew up with three brothers and ten sisters. She is married to Richard Feehan, with whom she has had 11 children. Feehan has over 30 novels published and is a #1 New York Times bestselling author. Her debut novel, Dark Prince, published in 1999 won three Paranormal Excellence Awards for Romantic Literature (PEARL) for that year. Since then she has won seven more PEARL awards and has been on numerous bestsellers list including those of Publishers Weekly, USA Today, and The New York Times. Feehan has also received a Career Achievement Award from Romantic Times and been nominated for a RITA award from the Romance Writers of America.