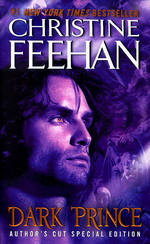 Enter the enchanting world of the Carpathians, where dark adventure, mystery, and love await, and the desires of two daring hearts unite in one irresistible passion A telepathic hunter of serial killers, Raven Whitney's work has drained her body and spirit, and now, in need of rest and rejuvenation, she embarks on a vacation far from home. The powerful leader of the Carpathians—a wise and secret ancient race that thrives in the night—Mikhail Dubrinsky is engulfed by despair, fearful of never finding the mate who can save him from the encroaching darkness. From the moment they meet, Raven and Mikhail are helpless to resist the desire that sparks between them. But just as fate unexpectedly brings these life mates together, malevolent forces threaten to destroy them and their fragile love. With an additional 100 pages of new material, Christine Feehan's magnificent tale of forbidden love mesmerizes as never before. Experience Dark Prince as it was always meant to be!
Udgivet af Harper Collins US
Christine Feehan
Christine Feehan (born Christine King) was born in California. She grew up with three brothers and ten sisters. She is married to Richard Feehan, with whom she has had 11 children. Feehan has over 30 novels published and is a #1 New York Times bestselling author. Her debut novel, Dark Prince, published in 1999 won three Paranormal Excellence Awards for Romantic Literature (PEARL) for that year. Since then she has won seven more PEARL awards and has been on numerous bestsellers list including those of Publishers Weekly, USA Today, and The New York Times. Feehan has also received a Career Achievement Award from Romantic Times and been nominated for a RITA award from the Romance Writers of America.