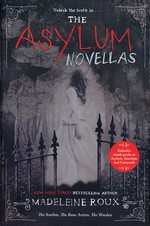 Three teens are pushed to the edge of their sanity in these chilling novellas set in the world of the New York Times bestselling Asylum series, featuring terrifying found photographs and teasers to Asylum, Sanctum, and Catacomb. Before Dan, Abby, and Jordan ever stepped foot inside the Brookline asylum, its legacy of terror stretched far and deep. Enter the twisted world of the New York Times bestselling Asylum series with these three spine-tingling novellas starring supporting characters from the novels, available in a print bind-up for the first time. In The Scarlets, Cal is drawn into New Hampshire College's twisted secret society—one with a deadly initiation. In The Bone Artists, Oliver tries to make a little extra money for college by working for a seedy organization that traffics in human bones. In The Warden, a young nurse starts a new job at the Brookline asylum, but soon becomes suspicious of its unorthodox procedures… Be careful where you go digging in history. Sometimes the past is better off buried. This edition also includes teasers to the three Asylum novels: Asylum, Sanctum, and Catacomb.
Udgivet af Harper Collins US
Madeleine Roux
MADELEINE ROUX received her BA in Creative Writing and Acting from Beloit College in 2008. In the spring of 2009, Madeleine completed an Honors Term at Beloit College, proposing, writing and presenting a full-length historical fiction novel. Shortly after, she began the experimental fiction blog Allison Hewitt Is Trapped. Allison Hewitt Is Trapped quickly spread throughout the blogosphere, bringing a unique serial fiction experience to readers.