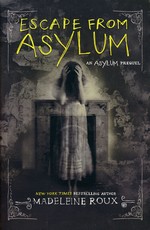 The Nightmare is Just Beginning Ricky Desmond doesn't belong in the Brookline asylum. His parents sent him here because they think he's a deviant—and that he can be cured—but Ricky knows there's no cure for what he has. Soon after he arrives, Ricky learns that being locked up against his will is only the beginning of his problems. Rumor has it that the Brookline warden authorizes treatments that aren't entirely . . . humane. That he's a butcher, a monster. And if the screams Ricky hears coming from the basement are any indication, the rumors are an understatement. Now, with the help of a nurse who feels just as trapped in Brookline as he does, Ricky must escape before the asylum claims his sanity—or his life. Set long before Dan, Abby, and Jordan ever walked the hallways of the Brookline asylum—back when it was still a functioning psych ward and not a dorm—Escape from Asylum is a mind-bending and scary installment in the Asylum series that can stand on its own for new readers or provide missing puzzle pieces for series fans.
Udgivet af Harper Collins US
Madeleine Roux
MADELEINE ROUX received her BA in Creative Writing and Acting from Beloit College in 2008. In the spring of 2009, Madeleine completed an Honors Term at Beloit College, proposing, writing and presenting a full-length historical fiction novel. Shortly after, she began the experimental fiction blog Allison Hewitt Is Trapped. Allison Hewitt Is Trapped quickly spread throughout the blogosphere, bringing a unique serial fiction experience to readers.