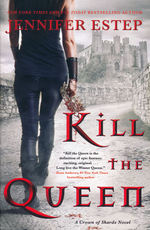 Gladiator meets Game of Thrones: a royal woman becomes a skilled warrior to destroy her murderous cousin, avenge her family, and save her kingdom in this first entry in a dazzling fantasy epic from the New York Times and USA Today bestselling author of the Elemental Assassin series—an enthralling tale that combines magic, murder, intrigue, adventure, and a hint of romance. In a realm where one's magical power determines one's worth, Lady Everleigh's lack of obvious ability relegates her to the shadows of the royal court of Bellona, a kingdom steeped in gladiator tradition. Seventeenth in line for the throne, Evie is nothing more than a ceremonial fixture, overlooked and mostly forgotten. But dark forces are at work inside the palace. When her cousin Vasilia, the crown princess, assassinates her mother the queen and takes the throne by force, Evie is also attacked, along with the rest of the royal family. Luckily for Evie, her secret immunity to magic helps her escape the massacre. Forced into hiding to survive, she falls in with a gladiator troupe. Though they use their talents to entertain and amuse the masses, the gladiators are actually highly trained warriors skilled in the art of war, especially Lucas Sullivan, a powerful magier with secrets of his own. Uncertain of her future—or if she even has one—Evie begins training with the troupe until she can decide her next move. But as the bloodthirsty Vasilia exerts her power, pushing Bellona to the brink of war, Evie's fate becomes clear: she must become a fearsome gladiator herself . . . and kill the queen.
Udgivet af Harper Collins US
Jennifer Estep
By night, Jennifer Estep is an author, prowling the streets of her imagination in search of her next fantasy idea. Jennifer writes the Elemental Assassin urban fantasy series. The books focus on Gin Blanco, an assassin codenamed the Spider who can control the elements of ice and stone. When she's not busy killing people and righting wrongs, Gin runs a barbecue restaurant called the Pork Pit in the fictional southern metropolis of Ashland. The city is also home to giants, dwarves, vampires, and elementals – Air, Fire, Ice, and Stone. Jennifer is also the author of the Bigtime paranormal romance series for Berkley. The Bigtime books feature sexy superheroes, evil ubervillains, and smart, sassy gals looking for love. By day, Jennifer is an award-winning features page designer for a daily newspaper with a wide range of media and journalism experience. She's also a certifiable fangirl and an authority on fantasy literature and culture. Jennifer is a member of Romance Writers of America, Science Fiction and Fantasy Writers of America, and other writing groups.