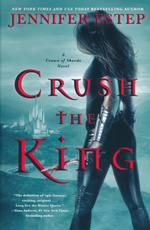 Queen Everleigh Blair of Bellona has survived the mass murder of the royal family, become a fearsome warrior trained by an elite gladiator troupe, and unleashed her ability to destroy magic. After surviving yet another assassination attempt orchestrated by the conniving king of Morta, Evie has had enough. It's time to turn the tables and take the fight to her enemies. There is no better opportunity to strike than during the Regalia Games, a time when warriors, nobles, and royals from all the kingdoms come together to compete in various sporting events. With the help of her loyal friends, Evie goes on the attack at the Regalia, but things don't turn out the way she hopes. Soon, she is facing a terrifying new threat, and she will have to dig deep and learn even more about her growing magic if she has any chance of defeating her foes. Because to secure her throne and ensure her kingdom's survival, Evie must think like a true Bellonan: she must outsmart and outwit her enemies . . . and crush the king.
Udgivet af Harper Collins US
Jennifer Estep
By night, Jennifer Estep is an author, prowling the streets of her imagination in search of her next fantasy idea. Jennifer writes the Elemental Assassin urban fantasy series. The books focus on Gin Blanco, an assassin codenamed the Spider who can control the elements of ice and stone. When she's not busy killing people and righting wrongs, Gin runs a barbecue restaurant called the Pork Pit in the fictional southern metropolis of Ashland. The city is also home to giants, dwarves, vampires, and elementals – Air, Fire, Ice, and Stone. Jennifer is also the author of the Bigtime paranormal romance series for Berkley. The Bigtime books feature sexy superheroes, evil ubervillains, and smart, sassy gals looking for love. By day, Jennifer is an award-winning features page designer for a daily newspaper with a wide range of media and journalism experience. She's also a certifiable fangirl and an authority on fantasy literature and culture. Jennifer is a member of Romance Writers of America, Science Fiction and Fantasy Writers of America, and other writing groups.