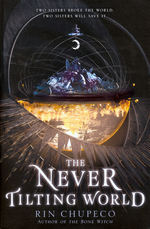 A world split between day and night. Two sisters who must unite it. From the acclaimed author of The Bone Witch, this is the first book in an epic teen fantasy duology that's equal parts Furyborn and Mad Max: Fury Road. Generations of twin goddesses have long ruled Aeon—until one sister's betrayal split their world in two. A Great Abyss now divides two realms: one cloaked in eternal night, the other scorched beneath an ever-burning sun. Now their daughters are poised to inherit a broken world. When spectral forces call the two young goddesses to the place where the world was broken, they set out on separate, equally dangerous journeys in hopes of healing their broken world. No matter the sacrifice it demands. Told from four interweaving perspectives, this sweeping duology packs elemental magic, star-crossed romance, and incredible landscapes into a spectacular fantasy adventure perfect for fans of Leigh Bardugo and Sabaa Tahir.
Udgivet af Harper Collins Publishers U.K.
Rin Chupeco
Erin "Rin" Chupeco is a Chinese Filipino writer of young adult fiction, best known for her The Bone Witch and The Girl from the Well series. As a child, Chupeco was fascinated with ghost stories, saying that she was drawn in by absolute injustice of Japanese tales that tend to favor male aggressors and never end positively for women. She describes herself as a pansexual, liberal atheist. Chupeco is also nonbinary and uses she/they pronouns.