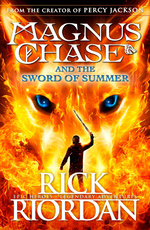 Magnus Chase has seen his share of trouble. Ever since that terrible night two years ago when his mother told him to run, he has lived alone on the streets of Boston, surviving by his wits, staying one step ahead of the police and truant officers. One day, he's tracked down by an uncle he barely knows-a man his mother claimed was dangerous. Uncle Randolph tells him an impossible secret: Magnus is the son of a Norse god. The Viking myths are true. The gods of Asgard are preparing for war. Trolls, giants, and worse monsters are stirring for doomsday. To prevent Ragnarok, Magnus must search the Nine Worlds for a weapon that has been lost for thousands of years. When an attack by fire giants forces him to choose between his own safety and the lives of hundreds of innocents, Magnus makes a fatal decision. Sometimes, the only way to start a new life is to die . . .
Udgivet af Penguin UK
Rick Riordan
Richard Russell Riordan Jr. is an American author. He is known for writing the Percy Jackson & the Olympians series, about a twelve-year-old Percy Jackson who discovers he is a son of Greek God Poseidon. 20th Century Fox has adapted the first two books of his Percy Jackson series as part of a series of films. His books have spawned related media, such as graphic novels and short story collections. He conceived the idea for the Percy Jackson series as bedtime stories about ancient Greek heroes for his son Haley. Haley had been diagnosed with ADHD and dyslexia, inspiring Riordan to make the titular protagonist ADHD and dyslexic. Prior to Percy Jackson, Riordan had written the Tres Navarres series, a series of mystery novels for adult readers.