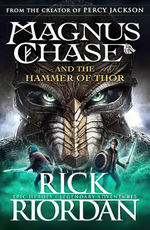 Thor's hammer is missing again. The thunder god has a disturbing habit of misplacing his weapon--the mightiest force in the Nine Worlds. But this time the hammer isn't just lost, it has fallen into enemy hands. If Magnus Chase and his friends can't retrieve the hammer quickly, the mortal worlds will be defenseless against an onslaught of giants. Ragnarok will begin. The Nine Worlds will burn. Unfortunately, the only person who can broker a deal for the hammer's return is the gods' worst enemy, Loki--and the price he wants is very high. Bonus content includes a chapter from Magnus Chase Book 3: SHIP OF THE DEAD and a chapter from the first Rick Riordan Presents book, ARU SHAH AND THE END OF TIME by Roshani Chokshi.
Udgivet af Penguin UK
Rick Riordan
Richard Russell Riordan Jr. is an American author. He is known for writing the Percy Jackson & the Olympians series, about a twelve-year-old Percy Jackson who discovers he is a son of Greek God Poseidon. 20th Century Fox has adapted the first two books of his Percy Jackson series as part of a series of films. His books have spawned related media, such as graphic novels and short story collections. He conceived the idea for the Percy Jackson series as bedtime stories about ancient Greek heroes for his son Haley. Haley had been diagnosed with ADHD and dyslexia, inspiring Riordan to make the titular protagonist ADHD and dyslexic. Prior to Percy Jackson, Riordan had written the Tres Navarres series, a series of mystery novels for adult readers.