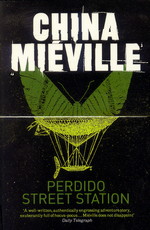 In the Sprawling gothic city of New Crobuzon, a stranger has come to request the services of Isaac, an overweight and slightly eccentric scientist. But it is an impossible request —that of flight—and in the end Isaac's attempts will only succeed in unleashing a dark force upon the city.Complex, grand, absorbing, and darkly haunting, Perdido Street Station is replete with endless weird and ghoulish places and characters—characters that (apart from human beings) include aliens, hybrids, mythical beings, constructs, and chilling 'Remades'. Merge Dickensian London with the L.A. of Blade Runner, add the characters of Lewis Carroll, and you will begin to get an idea of the hypnotic quality of Perdido Street Station.About the Author:China Mieville attended Cambridge. He is currently reading for his Ph.D. at the London School of Economics. He is 27.
Udgivet af Pan Macmillan Distribution Ltd. 1905
China Miéville
China Tom Miéville (born 6 September 1972 in Norwich) is an award-winning English fantasy fiction writer. He is fond of describing his work as "weird fiction" (after early 20th century pulp and horror writers such as H. P. Lovecraft), and belongs to a loose group of writers sometimes called New Weird who consciously attempt to move fantasy away from commercial, genre clichés of Tolkien epigones. He is also active in left-wing politics as a member of the Socialist Workers Party. He has stood for the House of Commons for the Socialist Alliance, and published a book on Marxism and international law. When he was eighteen, China Miéville lived and taught English in Egypt, where he developed an interest in Arab culture and Middle Eastern politics. Miéville has a B.A. in social anthropology from Cambridge and a master's with distinction from the London School of Economics. His first novel, King Rat, was nominated for both an International Horror Guild Award and the Bram Stoker Prize. Perdido Street Station won the Arthur C. Clarke Award and was nominated for a British Science Fiction Association Award. He lives in London, England and teaches creative writing at Warwick University.