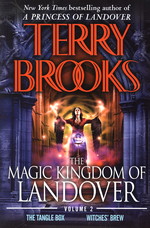 Now in one thrilling volume experience the magic, the intrigue, and the exciting escapades of the final two novels in Terry Brooks's spellbinding Magic Kingdom of Landover series All appears well with Ben Holiday. He's finally secured for himself the throne of Landover, and he and his wife, the exquisite sylph Willow, are expecting their first child. But their peaceful days are numbered. The conjurer Horris Kews returns to Landover and inadvertently releases an evil sorcerer from the Tangle Box, a magic chest used by the fairy folk to imprison wayward spirits. Now free, the sorcerer traps Ben inside the box's labyrinthine passages and plots to wreak havoc in Landover using Horris as his pawn. But Ben's greatest challenge comes when Rydall, a foreign king, issues Ben an ultimatum: defeat seven deadly champions, or Rydall's armies invade Landover. Complicating matters is the devastating fact that Ben and Willow's young daughter has been kidnapped–and her fate lies in Rydall's dangerous hands. Relying on his loyal friends, his steadfast wife, and no small amount of endurance and enchantment, Ben risks his life to save everything he loves. But this time, black magic may prove too powerful for even the most devoted heart. About the Author Terry Brooks is the New York Times bestselling author of more than twenty-five books, including the Genesis of Shannara novels Armageddon's Children and The Elves of Cintra; The Sword of Shannara; the Voyage of the Jerle Shannara trilogy: Ilse Witch, Antrax, and Morgawr; the High Druid of Shannara trilogy: Jarka Ruus, Tanequil, and Straken; the nonfiction book Sometimes the Magic Works: Lessons from a Writing Life; and the novel based upon the screenplay and story by George Lucas, Star Wars®: Episode I The Phantom Menace.™ His novels Running with the Demon and A Knight of the Word were selected by the Rocky Mountain News as two of the best science fiction/fantasy novels of the twentieth century. The author was a practicing attorney for many years but now writes full-time. He lives with his wife, Judine, in the Pacific Northwest.
Udgivet af Ballantine
Terry Brooks
Amerikansk fantasy forfatter og tidligere advokat. Brooks fik udgivet sin første roman , The Sword of Shannara" i 1977. Den blev en bestseller og han har skrevet nye bøger i serien lige siden. Han var den første fantasy forfatter som kom på bestsellerlisterne. Udover "Shannara" serien skriver Brooks også serien, "Magic Kingdom" samt "A Knight of the Word" serien. Han regner med at skrive en ny "Magic Kingdom" bog snart.