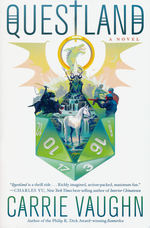 YOU FIND YOURSELF IN A MAZE FULL OF TWISTY PASSAGES... Literature professor Dr. Addie Cox is living a happy, if sheltered, life in her ivory tower when Harris Lang, the famously eccentric billionaire tech genius, offers her an unusual job. He wants her to guide a mercenary strike team sent to infiltrate his island retreat off the northwest coast of the United States. Addie is puzzled by her role on the mission until she understands what Lang has built: Insula Mirabilis, an isolated resort where tourists will one day pay big bucks for a convincing, high-tech-powered fantasy-world experience, complete with dragons, unicorns, and, yes, magic. Unfortunately, one of the island's employees has gone rogue and activated an invisible force shield that has cut off all outside communication. A Coast Guard cutter attempting to pass through the shield has been destroyed. Suspicion rests on Dominic Brand, the project's head designer— and Addie Cox's ex-boyfriend. Lang has tasked Addie and the mercenary team with taking back control of the island at any cost. But Addie is wrestling demons of her own—and not the fantastical kind. Now, she must navigate the deadly traps of Insula Mirabilis as well as her own past trauma. And no d20, however lucky, can help Addie make this saving throw.
Udgivet af Mariner Books
Carrie Vaughn
Carrie Vaughn is an American author who writes the urban fantasy Kitty Norville series. She has published more than 40 short stories in science fiction and fantasy magazines as well as short story anthologies and internet magazines. She is one of the authors for the Wild Cards books. Vaughn graduated with a Bachelor of Arts degree from Occidental College (during the course of which she also spent a year at the University of York) and later graduated from the University of Colorado at Boulder with a Master of Arts degree in English Literature. She currently lives in Boulder, Colorado. Her stories have received a number of honorable mention credits in The Year's Best Science Fiction, edited by Gardner Dozois and The Year's Best Fantasy and Horror, edited by Ellen Datlow, Terry Windling, Kelly Link, and Gavin Grant. Carrie Vaughn was a 1998 graduate of the intensive 6-week Odyssey Writing Workshop, one of the top speculative fiction writing workshops in the USA. In 2009, she returned to the workshop as the special writer-in-residence. While the Kitty Norville books are published as fantasy, they have been popular with romance readers as well. In 2005, Kitty and the Midnight Hour won Romantic Times' Reviewer's Choice Award for 'Best First Mystery'. Vaughn has said she welcomes the attention, but that it was unexpected. "I emerged from the world of science fiction and fantasy, but I'm being promoted as a romance writer. It's kind of like Jerry Lewis becoming popular in France, I guess." In January 2008 Kitty and the Silver Bullet was ranked 20 on the New York Times Best Seller List (Paperback Mass-Market Fiction). In February 2009, Kitty and the Dead Man's Hand reached number 13.