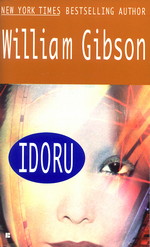 Twenty-first-century Tokyo, after the millennial quake. Neon rain. Light everywhere, blowing under any door you might try to close. Where the New Buildings, the largest in the world, erect themselves unaided, their slow rippling movements like the contractions of a sea creature. Colin Laney is here looking for work. He is not, he is careful to point out, a voyeur. He is an intuitive fisher of patterns of information, the "signature" a particular individual creates simply by going about the business of living. But Laney knows how to sift for the interesting (read: dangerous) bits. Which makes him very useful - to certain people. Chia McKenzie is here on a rescue mission. She's fourteen. Her idol is the singer Rez, of the band Lo/Rez. When the Seattle chapter of the Lo/Rez fan club decided that he might be in trouble, in Tokyo, they sent Chia to check it out. Rei Toei is the beautiful, entirely virtual media star adored by all Japan. The Idoru. And Rez has declared that he will marry her. This is the rumor that brought Chia to Tokyo. But the things that bother Rez are not the things that bother most people. Is something different here, in the very nature of reality? Or is it that something violently new is about to happen? It's possible the Idoru is as real as she wants or needs to be - or as real as Rez desires. When Colin Laney looks into her dark eyes, trying hard to think of her as no more than a hologram, he sees things he's never seen before. He sees how she might break a man's heart.
Udgivet af Ace Books 1905
William Gibson
William Ford Gibson (born March 17, 1948) is an American-Canadian writer who has been called the "noir prophet" of the cyberpunk subgenre of science fiction. Gibson coined the term "cyberspace" in his short story "Burning Chrome" and later popularized the concept in his debut novel, Neuromancer (1984). In envisaging cyberspace, Gibson created an iconography for the information age before the ubiquity of the Internet in the 1990s. He is also credited with predicting the rise of reality television and with establishing the conceptual foundations for the rapid growth of virtual environments such as video games and the Web. Having changed residence frequently with his family as a child, Gibson became a shy, ungainly teenager who often read science fiction. After spending his adolescence at a private boarding school in Arizona, Gibson dodged the draft during the Vietnam War by emigrating to Canada in 1968, where he became immersed in the counterculture and after settling in Vancouver eventually became a full-time writer. He retains dual citizenship. Gibson's early works are bleak, noir near-future stories about the effect of cybernetics and computer networks on humans – a "combination of lowlife and high tech". The short stories were published in popular science fiction magazines. The themes, settings and characters developed in these stories culminated in his first novel, Neuromancer, which garnered critical and commercial success, virtually initiating the cyberpunk literary genre. Although much of Gibson's reputation has remained associated with Neuromancer, his work has continued to evolve. After expanding on Neuromancer with two more novels to complete the dystopic Sprawl trilogy, Gibson became an important author of another science fiction sub-genre—steampunk—with the 1990 alternate history novel The Difference Engine, written with Bruce Sterling. In the 1990s, he composed the Bridge trilogy of novels, which focused on sociological observations of near-future urban environments and late capitalism. His most recent novels—Pattern Recognition (2003) and Spook Country (2007)—are set in a contemporary world and have put his work onto mainstream bestseller lists for the first time. Gibson is one of the best-known North American science fiction writers, fêted by The Guardian in 1999 as "probably the most important novelist of the past two decades". Gibson has written more than twenty short stories and nine critically acclaimed novels (one in collaboration), and has contributed articles to several major publications and collaborated extensively with performance artists, filmmakers and musicians. His thought has been cited as an influence on science fiction authors, design, academia, cyberculture, and technology.