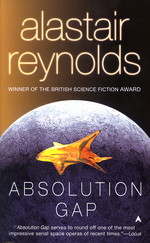 With his "top-notch" (Maxim) debut, Revelation Space, Alastair Reynolds was widely hailed as the new leader of cutting-edge hard-science fiction; a reputation he confirmed with the "awe inspiring"* sequel, Redemption Ark. Now, with Absolution Gap, he concludes the saga that made him "the most exciting space opera writer working today" (*Locus). Ancient killing machines, designed to locate and destroy any life form reaching a certain level of intelligence, have been stirred from eons of sleep. Their latest target: Humanity. Seeking refuge on an apparently insignificant moon light-years away, it begins to dawn on war veteran Clavain and his ragtag companions that to beat one enemy, it may be necessary to forge an alliance with something much worse...
Udgivet af Ace Books
Alastair Reynolds
Alastair Preston Reynolds (born in 1966 in Barry, Wales) is a British science fiction author. He specialises in dark hard science fiction and space opera. He spent his early years in Cornwall, moved back to Wales before going to Newcastle, where he read physics and astronomy. Afterwards, he earned a PhD from St Andrews, Scotland. In 1991, he moved to Noordwijk in the Netherlands where he met his wife Josette (who is from France). There, he worked for the European Space Research and Technology Centre, part of the European Space Agency, until 2004 when he left to pursue writing full time. He returned to Wales in 2008 and lives near Cardiff.