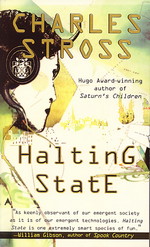 This brilliantly conceived techno-crime thriller spreads a black humor frosting over the grim prospect of the year 2012, when China, India and the European System are struggling for world economic domination in an infowar, and the U.S. faces bankruptcy over its failing infrastructure. Sgt. Sue Smith of Edinburgh's finest, London insurance accountant Elaine Barnaby and hapless secret-ridden programmer Jack Reed peel back layer after layer of a scheme to siphon vast assets from Hayek Associates, a firm whose tentacles spread into international economies. The theft is routed through Avalon Four, a virtual reality world complete with supposedly robbery-proof banks. As an electronic intelligence agency trains innocent gamers to do its dirty work, Elaine sets Jack to catch the poacher. Hugo-winner Stross (Glasshouse) creates a deeply immersive story, writing all three perspectives in the authoritative second-person style of video game instructions and gleefully spiking the intrigue with virtual Orcs, dragons and swordplay. The effortless transformation of today's technological frustrations into tomorrow's nightmare realities is all too real for comfort.
Udgivet af Ace Books
Charles Stross
Charles David George "Charlie" Stross (born 18 October 1964) is a writer based in Edinburgh, Scotland. His works range from science fiction and Lovecraftian horror to fantasy. Stross was born in Leeds. In the 1970s and 1980s, Stross published some role-playing game articles for Advanced Dungeons & Dragons in the White Dwarf magazine. Some of his creatures, such as the death knight, githyanki (borrowed from George R. R. Martin's book, Dying of the Light), githzerai, and slaad (a chaotic race notable for their rigid caste system) were later published in the Fiend Folio monster compendium. His first published short story, "The Boys", appeared in Interzone in 1987. His first novel, Singularity Sky was published by Ace Books in 2003 and was nominated for the Hugo Award. In addition to working as a writer of fiction he has worked as a technical author, freelance journalist, programmer, and pharmacist at different times. He holds degrees in Pharmacy and Computer Science. Rogue Farm, an animated film based on his 2003 short story of the same title, debuted in August 2004.