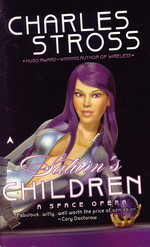 Sex oozes from every page of this erotic futuristic thriller. In a far-future class-driven android society, most of the populace are slave-chipped and owned by wealthy aristos. When low-caste but unenslaved android Freya offends an aristo and needs to get off-world, she takes a courier position with the mysterious Jeeves Corporation, but the job turns out to have dangers of its own. Designed as a pleasure-module, Freya isn't quite as obsolete as she could be, as androids have sex with each other incessantly. Hugo-winner Stross (Halting State) has a deep message of how android slavery recapitulates humanity's past mistakes, but he struggles to make it heard over the moans and gunshots. Readers nostalgic for the SF of the '60s will find much that's familiar (including Freya's jumpsuit-clad form on the cover), but that doesn't quite compensate for the flaws.
Udgivet af Ace Books
Charles Stross
Charles David George "Charlie" Stross (born 18 October 1964) is a writer based in Edinburgh, Scotland. His works range from science fiction and Lovecraftian horror to fantasy. Stross was born in Leeds. In the 1970s and 1980s, Stross published some role-playing game articles for Advanced Dungeons & Dragons in the White Dwarf magazine. Some of his creatures, such as the death knight, githyanki (borrowed from George R. R. Martin's book, Dying of the Light), githzerai, and slaad (a chaotic race notable for their rigid caste system) were later published in the Fiend Folio monster compendium. His first published short story, "The Boys", appeared in Interzone in 1987. His first novel, Singularity Sky was published by Ace Books in 2003 and was nominated for the Hugo Award. In addition to working as a writer of fiction he has worked as a technical author, freelance journalist, programmer, and pharmacist at different times. He holds degrees in Pharmacy and Computer Science. Rogue Farm, an animated film based on his 2003 short story of the same title, debuted in August 2004.