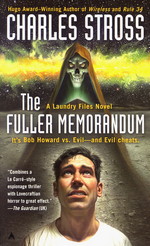 Bob Howard is taking a much needed break from the field to catch up on his filing in The Laundry's archives when a top secret dossier known as The Fuller Memorandum vanishes-along with his boss, who the agency's executives believe stole the file. Determined to discover exactly what the memorandum contained, Bob runs afoul of Russian agents, ancient demons, and the apostles of a hideous faith, who have plans to raise a very unpleasant undead entity known as the Eater of Souls...
Udgivet af Ace Books
Charles Stross
Charles David George "Charlie" Stross (born 18 October 1964) is a writer based in Edinburgh, Scotland. His works range from science fiction and Lovecraftian horror to fantasy. Stross was born in Leeds. In the 1970s and 1980s, Stross published some role-playing game articles for Advanced Dungeons & Dragons in the White Dwarf magazine. Some of his creatures, such as the death knight, githyanki (borrowed from George R. R. Martin's book, Dying of the Light), githzerai, and slaad (a chaotic race notable for their rigid caste system) were later published in the Fiend Folio monster compendium. His first published short story, "The Boys", appeared in Interzone in 1987. His first novel, Singularity Sky was published by Ace Books in 2003 and was nominated for the Hugo Award. In addition to working as a writer of fiction he has worked as a technical author, freelance journalist, programmer, and pharmacist at different times. He holds degrees in Pharmacy and Computer Science. Rogue Farm, an animated film based on his 2003 short story of the same title, debuted in August 2004.