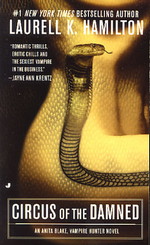 In Circus of the Damned-now in hardcover for the first time-a rogue master vampire hits town, and Anita gets caught in the middle of an undead turf war. Jean-Claude, the Master Vamp of the city, wants her for his own-but his enemies have other plans. And to make matters worse, Anita takes a hit to the heart when she meets a stunningly handsome junior high science teacher named Richard Zeeman. They're two humans caught in the crossfire. Or so Anita thinks...Author Biography: Laurell K. Hamilton is a full-time writer. She lives in a suburb of St. Louis with her family.
Udgivet af Jove 1905
Laurell K. Hamilton
Laurell K. Hamilton was born in Heber Springs, Arkansas but grew up in Sims, Indiana, a hamlet with a population of about one hundred souls. Laurell's mother died in a car crash in 1969, after which time her grandmother held the household together. Her mother's death, her grandmother's role in raising her, and having grown up with no men in the home are "the three things that made who I am," she says. She still believes she would have grown up to be a writer regardless. In 1994, Laurell published her first Anita Blake: Vampire Hunter book, GUILTY PLEASURES, and she hasn't stopped writing since. She has written nine additional Anita Blake books, and in October, 2000, began the New York Times bestselling Meredith Gentry series for Ballantine Books. She says she writes because to not write -- even for her own enjoyment -- would be like not breathing. It is just something she has to do. She now resides in St. Louis, Missouri with her husband, her young daughter, three pug dogs, and an ever-fluctuating assortment of fish.