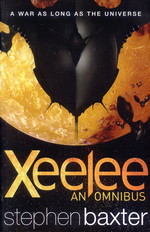 Stephen Baxter's epic sequence of Xeelee novels was introduced to a new generation of readers with his highly successful quartet, Destiny's Children, published by Gollancz between 2003 and 2006. But the sequence of novels began with RAFT in 1991. From there it built into perhaps the most ambitious fictitious universe ever created. Beginning with the rise and fall of sub-quantum civilisations in the first nano-seconds after the Big Bang and ending with the heat death of the universe billions of years from now the series charts the story of mankinds epic war against the ancient and unknowable alien race the Xeelee. Along the way it examines questions of physics, the nature of reality, the evolution of mankind and its possible future. It looks not just at the morality of war but at the morality of survival and our place in the universe. This is a landmark in SF.
Udgivet af Orion Books
Stephen Baxter
Stephen Baxter was born in Liverpool, England, in 1957. Since 1987 he has published over forty books, mostly science fiction novels, and over a hundred short stories. He has degrees in mathematics, from Cambridge University, engineering, from Southampton University, and in business administration, from Henley Management College. He has worked as a teacher of maths and physics, and for several years in information technology. His first professionally published short story appeared in 1987, and his first novel in 1991. He has been a full-time author since 1995. He is Vice-President of the British Science Fiction Association, and a Vice-President of the HG Wells Society. He now lives in Northumberland.