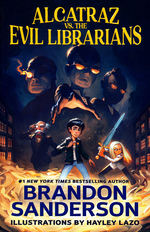 On his thirteenth birthday, foster child Alcatraz Smedry gets a bag of sand in the mail-his only inheritance from his father and mother. He soon learns that this is no ordinary bag of sand. It is quickly stolen by the cult of evil Librarians who are taking over the world by spreading misinformation and suppressing truth. Alcatraz must stop them, using the only weapon he has: an incredible talent for breaking things.
Udgivet af Starscape
Brandon Sanderson
Brandon Sanderson (born December 19, 1975) is an American fantasy author. A Nebraska native, he currently resides in Provo, Utah. He earned his Master's degree in Creative Writing in 2005 from Brigham Young University, where he was on the staff of Leading Edge a semi-professional speculative fiction magazine published by the university. He was a college roommate of Jeopardy! champion Ken Jennings. He has been nominated twice for the John W. Campbell Award. Sanderson married on July 7, 2006 and is a member of the LDS church. After Robert Jordan's death, Brandon Sanderson was selected by Harriet McDougal (Robert Jordan's widow), to complete the final book in Jordan's epic fantasy series The Wheel of Time. Harriet asked him to complete the series after being deeply impressed by Mistborn: The Final Empire. Tor Books made the announcement December 7, 2007. On March 30, 2009 it was announced that A Memory of Light, originally slated to be the final book in the Wheel of Time series, will be split into three volumes.