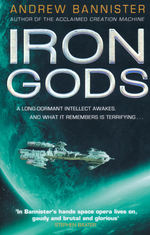 The Spin - an ancient artificial cluster of eighty-eight planets and twenty-one suns - is in decline.For millennia, the people of Three Quarter Circle Harbour have watched the stars from their world, hidden in a forgotten corner of the Spin. Now something in the sky has changed and it will set them on a course to war and destruction.Seldyan is one of the band of renegades that has broken out of the vast slave colony of the Hive. Hijacking one of the last of the Spin?s great legacy warships, they wake its long-dormant intelligence and set a course that promises freedom.But as the ancient ship's memory returns, with it comes a terrifying knowledge - a dire warning about the future that has been concealed for ten thousand years . . .
Udgivet af Bantam Doubleday Dell Publishing Co., Inc.
Andrew Bannister
Born in 1965, Andrew Bannister grew up in Cornwall. He studied Geology at Imperial College and went to work in the North Sea before becoming an Environmental Consultant. For the day job, he specialises in green transport and corporate sustainability, but he has always written - initially for student newspapers and fanzines before moving on, encouraged by creative writing courses, to fiction. He's always been a reader and has loved science fiction since childhood. From the classics of the 50s and 60s to the present day, he's wanted it all: space, stars, astonishment and adventure - and now he's discovered that writing it is even better. Andrew lives in Leicestershire.