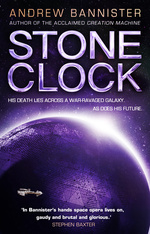 It is a hundred millennia after Iron Gods. The Spin is nearing the end of its life. Its inhabitants are divided between those who live unknowingly in the relative paradise of one of hundreds of Virtual Realities – vrealities – and those who scrape a living in what remains of the real world. The massive servers needed to maintain the vrealities are draining the resources of the Spin. And an escalating, desperate and seemingly futile war has begun between those who tend the servers and those who believe they should be shut down, killing millions. But one amongst these unwitting combatants will discover the real nature of the vrealities – and his role in their fate. From a remote star system, a being has been observing the Spin for several lifetimes. He is Skarbo the Horologist and he is about to die for the very last time. He has come to accept that he will never visit the object of his studies but is coerced into making one last journey. His final destination lies across a war-torn galaxy. And there he will learn of the Spin's past – and its astonishing future . . . Returning to the extraordinarily envisioned artificial planetary cluster called the Spin, Stone Clock is the dazzling new space opera from the acclaimed author of Creation Machine and Iron Gods.
Udgivet af Bantam Doubleday Dell Publishing Co., Inc.
Andrew Bannister
Born in 1965, Andrew Bannister grew up in Cornwall. He studied Geology at Imperial College and went to work in the North Sea before becoming an Environmental Consultant. For the day job, he specialises in green transport and corporate sustainability, but he has always written - initially for student newspapers and fanzines before moving on, encouraged by creative writing courses, to fiction. He's always been a reader and has loved science fiction since childhood. From the classics of the 50s and 60s to the present day, he's wanted it all: space, stars, astonishment and adventure - and now he's discovered that writing it is even better. Andrew lives in Leicestershire.