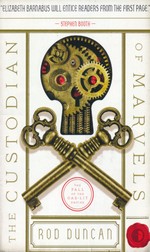 You'd have to be mad to steal from the feared International Patent Office. But that's what Elizabeth Barnabus is about to try. A one-time enemy from the circus has persuaded her to attempt a heist that will be the ultimate conjuring trick. Hidden in the vaults of the Patent Court in London lie secrets that could shake the very pillars of the Gas-Lit Empire. All that stands in Elizabeth's way are the agents of the Patent Office, a Duke's private army and the mysterious Custodian of Marvels. Rod Duncan returns with the climactic volume of the Fall of the Gas-Lit Empire, the breathtaking alternate history series that began with the Philip K Dick Award-nominated The Bullet-Catcher's Daughter.
Udgivet af Angry Robot
Rod Duncan
Rod Duncan's first published novels form the so-called "Riot Trilogy", each of which examine the same riot, on one day in Leicester, from the experience of a different character. Duncan has since moved into writing Steampunk novels. His first trilogy was The Fall of the Gas-Lit Empire. Set in the "Gas-Lit Empire", a Victorianesque version of Leicester and Lincolnshire, the events happen in the aftermath of a Luddite revolution that has reined back technology. The novel takes place at a travelling magic show and is themed around illusion, hence the bullet catch trick in the title.