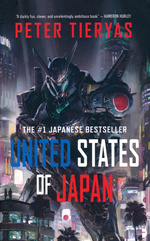 Decades ago, Japan won the Second World War. Americans worship their infallible Emperor, and nobody believes that Japan's conduct in the war was anything but exemplary. Nobody, that is, except the George Washingtons – a shadowy group of rebels fighting for freedom. Their latest subversive tactic is to distribute an illegal video game that asks players to imagine what the world might be like if the United States had won the war instead. Captain Beniko Ishimura's job is to censor video games, and he's working with Agent Akiko Tsukino of the secret police to get to the bottom of this disturbing new development. But Ishimura's hiding something... He's slowly been discovering that the case of the George Washingtons is more complicated than it seems, and the subversive videogame's origins are even more controversial and dangerous than either of them originally suspected. Part detective story, part brutal alternate history, United States of Japan is a stunning successor to Philip K Dick's The Man in the High Castle.
Udgivet af Angry Robot
Peter Tieryas
Peter Tieryas is the author of United States of Japan (Angry Robot, Hayakawa 2016) and Bald New World (Perfect Edge Books), which was nominated for the Folio Prize. USJ was a Nikkei bestseller and went to 7th print within the first month of its release in Japan. His books have gotten praise from Buzzfeed, io9 Gizmodo, Kotaku, Kirkus Reviews, Financial Times, Tor.com, Publisher's Weekly, Popular Mechanics, Esquire, and Yahoo!. His writing has been published in Electric Literature, Evergreen Review, Hobart, Indiana Review, Kyoto Journal, New Letters, and ZYZZYVA. He has also worked as a technical writer for LucasArts, the late gaming division of LucasFilm, as well as being a VFX artist at Sony (Men in Black 3, Guardians of the Galaxy, Alice in Wonderland, Hotel Transylvania) and EA. You can find him at tieryasDOTwordpressDOTcom… as well as traveling the world with his wife.