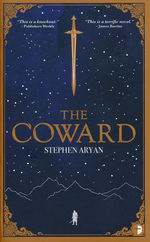 Who will take up the mantle and slay the evil in the Frozen North, saving all from death and destruction? Not Kell Kressia, he's done his part... Kell Kressia is a legend, a celebrity, a hero. Aged just seventeen he set out on an epic quest with a band of grizzled fighters to slay the Ice Lich and save the world, but only he returned victorious. The Lich was dead, the ice receded and the Five Kingdoms were safe. Ten years have passed Kell lives a quiet farmer's life, while stories about his heroism are told in every tavern across the length and breadth of the land. But now a new terror has arisen in the north. Beyond the frozen circle, north of the Frostrunner clans, something has taken up residence in the Lich's abandoned castle. And the ice is beginning to creep south once more. For the second time, Kell is called upon to take up his famous sword, Slayer, and battle the forces of darkness. But he has a terrible secret that nobody knows. He's not a hero - he was just lucky. Everyone puts their faith in Kell the Legend, but he's a coward who has no intention of risking his life for anyone...
Udgivet af Angry Robot
Stephen Aryan
Stephen Aryan is a writer and podcaster. He has previously written a comic book column and comic book reviews for Tor.com, developed intellectual property into comic book pitches for a media company, and self published a superhero comic. Since 2007 he has been co-hosting a comics and geek culture podcast, recently renamed Grouchy Old Geeks and rebooted the numbers. Stephen has also spoken on panels at comic book conventions about comics and podcasting. He's also working on several comic book projects.