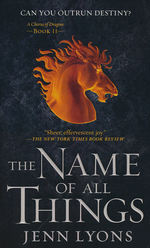 You can have everything you want if you sacrifice everything you believe. Kihrin D'Mon is a wanted man. Since he destroyed the Stone of Shackles and set demons free across Quur, he has been on the run from the wrath of an entire empire. His attempt to escape brings him into the path of Janel Theranon, a mysterious Joratese woman who claims to know Kihrin. Janel's plea for help pits Kihrin against all manner of dangers: a secret rebellion, a dragon capable of destroying an entire city, and Kihrin's old enemy, the wizard Relos Var. Janel believes that Relos Var possesses one of the most powerful artifacts in the world--the Cornerstone called the Name of All Things. And if Janel is right, then there may be nothing in the world that can stop Relos Var from getting what he wants. And what he wants is Kihrin D'Mon.
Udgivet af Pan Macmillan Distribution Ltd.
Jenn Lyons
Jenn Lyons lives in Atlanta, Georgia, with her husband, three cats, and a lot of opinions on anything from the Sumerian creation myths to the correct way to make a martini. At various points in her life, she has wanted to be an archaeologist, anthropologist, architect, diamond cutter, fashion illustrator, graphic designer, or Batman. Turning from such obvious trades, she is now a video game producer by day, and spends her evenings writing science fiction and fantasy. When not writing, she can be founding debating the Oxford comma and Joss Whedon's oeuvre at various local coffee shops.