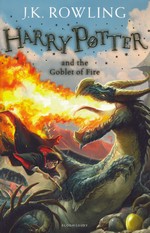 Harry Potter is midway through his training as a wizard and his coming of age. Harry wants to get away from the pernicious Dursleys and go to the International Quidditch Cup. He wants to find out about the mysterious event that's supposed to take place at Hogwarts this year, an event involving two other rival schools of magic, and a competition that hasn't happened for a hundred years. He wants to be a normal, fourteen-year-old wizard. But unfortunately for Harry Potter, he's not normal - even by wizarding standards. And in his case, different can be deadly.
Udgivet af Bloomsbury
J. K. Rowling
Joanne Rowling (born 31 July 1965), writing under the pen names J. K. Rowling and Robert Galbraith, is a British novelist, philanthropist, film producer, television producer and screenwriter, best known for writing the Harry Potter fantasy series. The books have won multiple awards, and sold more than 500 million copies, becoming the best-selling book series in history. Rowling has lived a "rags to riches" life story, in which she progressed from living on state benefits to being the world's first billionaire author. She lost her billionaire status after giving away much of her earnings to charity, but remains one of the wealthiest people in the world.