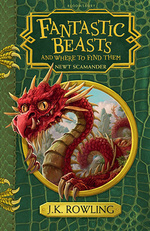 An approved textbook at Hogwarts School of Witchcraft and Wizardry since first publication, Fantastic Beasts and Where to Find Them is an indispensable guide to the magical beasts of the wizarding world. Muggles who have seen the eponymous film or read the Harry Potter novels will be familiar with some of these beasts - the Niffler, the Thunderbird, the Hippogriff ... This new paperback edition features the recently revised 2017 text, which includes six curious new creatures that inhabit the North American continent, and a new foreword from Newt Scamander that sheds fascinating light on the events surrounding a serious breach in the International Statute of Secrecy which took place in New York in the 1920s. This new paperback edition features gorgeously shimmery snakeskin detail on the foil effect jacket and line illustrations throughout by Tomislav Tomic. Newt Scamander's masterpiece has entertained wizarding families through the generations. Witches, wizards and Muggles of all ages will delight in discovering the extraordinary habits and habitats of magical beasts from across five continents.
Udgivet af Bloomsbury
J. K. Rowling
Joanne Rowling (born 31 July 1965), writing under the pen names J. K. Rowling and Robert Galbraith, is a British novelist, philanthropist, film producer, television producer and screenwriter, best known for writing the Harry Potter fantasy series. The books have won multiple awards, and sold more than 500 million copies, becoming the best-selling book series in history. Rowling has lived a "rags to riches" life story, in which she progressed from living on state benefits to being the world's first billionaire author. She lost her billionaire status after giving away much of her earnings to charity, but remains one of the wealthiest people in the world.