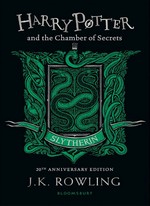 Let the magic of J.K. Rowling's classic series take you back to Hogwarts School of Witchcraft and Wizardry. Issued to mark the 20th anniversary of first publication of Harry Potter and the Chamber of Secrets, these irresistible House Editions celebrate the noble character of the four Hogwarts houses. Featuring gorgeous house-themed cover art and interior line illustrations by Kate Greenaway Medal winner Levi Pinfold, each book will also have vibrant sprayed edges in the house livery. Entertaining bonus features exclusive to each house accompany the novel. All seven books in the series will be issued in these highly collectable House Editions. A must-have for anyone who has ever imagined sitting under the Sorting Hat in the Great Hall at Hogwarts waiting to hear the words, 'Better be SLYTHERIN!' You'll always find a home at Hogwarts!
Udgivet af Bloomsbury
J. K. Rowling
Joanne Rowling (born 31 July 1965), writing under the pen names J. K. Rowling and Robert Galbraith, is a British novelist, philanthropist, film producer, television producer and screenwriter, best known for writing the Harry Potter fantasy series. The books have won multiple awards, and sold more than 500 million copies, becoming the best-selling book series in history. Rowling has lived a "rags to riches" life story, in which she progressed from living on state benefits to being the world's first billionaire author. She lost her billionaire status after giving away much of her earnings to charity, but remains one of the wealthiest people in the world.