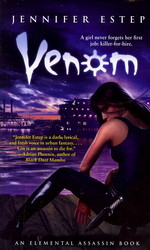 What kind of assassin works pro bono? It's hard to be a badass assassin when a giant is beating the crap out of you. Luckily, I never let pride get in the way of my work. My current mission is personal: annihilate Mab Monroe, the Fire elemental who murdered my family. Which means protecting my identity, even if I have to conceal my powerful Stone and Ice magic when I need it most. To the public, I'm Gin Blanco, owner of Ashland's best barbecue joint. To my friends, I'm the Spider, retired assassin. I still do favors on the side. Like ridding a vampire friend of her oversized stalker—Mab's right-hand goon who almost got me dead with his massive fists. At least irresistible Owen Grayson is on my side. The man knows too much about me, but I'll take my chances. Then there's Detective Bria Coolidge, one of Ashland's finest. Until recently, I thought my baby sister was dead. She probably thinks the same about me. Little does she know, I'm a cold-blooded killer . . . who is about to save her life.
Udgivet af Pocket Books
Jennifer Estep
By night, Jennifer Estep is an author, prowling the streets of her imagination in search of her next fantasy idea. Jennifer writes the Elemental Assassin urban fantasy series. The books focus on Gin Blanco, an assassin codenamed the Spider who can control the elements of ice and stone. When she's not busy killing people and righting wrongs, Gin runs a barbecue restaurant called the Pork Pit in the fictional southern metropolis of Ashland. The city is also home to giants, dwarves, vampires, and elementals – Air, Fire, Ice, and Stone. Jennifer is also the author of the Bigtime paranormal romance series for Berkley. The Bigtime books feature sexy superheroes, evil ubervillains, and smart, sassy gals looking for love. By day, Jennifer is an award-winning features page designer for a daily newspaper with a wide range of media and journalism experience. She's also a certifiable fangirl and an authority on fantasy literature and culture. Jennifer is a member of Romance Writers of America, Science Fiction and Fantasy Writers of America, and other writing groups.