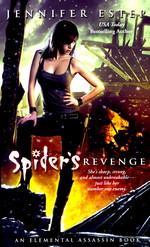 Old habits die hard for assassins. And I plan on murdering someone before the night is through. Killing used to be my regular gig, after all. Gin Blanco, aka the Spider, assassin-for-hire. And I was very, very good at it. Now, I'm ready to make the one hit that truly matters: Mab Monroe, the dangerous Fire elemental who murdered my family when I was thirteen. Oh, I don't think the mission will be easy, but turns out it's a bit more problematic than expected. The bitch knows I'm coming for her. So now I'm up against the army of lethal bounty hunters Mab hired to track me down. She also put a price on my baby sister's head. Keeping Bria safe is my first priority. Taking Mab out is a close second. Good thing I've got my powerful Ice and Stone magic—and my irresistible lover, Owen Grayson—to watch my back. This battle has been years in the making, and there's a good chance I won't survive. But if I'm going down, then Mab's coming with me . . . no matter what I have to do to make that happen.
Udgivet af Pocket Books
Jennifer Estep
By night, Jennifer Estep is an author, prowling the streets of her imagination in search of her next fantasy idea. Jennifer writes the Elemental Assassin urban fantasy series. The books focus on Gin Blanco, an assassin codenamed the Spider who can control the elements of ice and stone. When she's not busy killing people and righting wrongs, Gin runs a barbecue restaurant called the Pork Pit in the fictional southern metropolis of Ashland. The city is also home to giants, dwarves, vampires, and elementals – Air, Fire, Ice, and Stone. Jennifer is also the author of the Bigtime paranormal romance series for Berkley. The Bigtime books feature sexy superheroes, evil ubervillains, and smart, sassy gals looking for love. By day, Jennifer is an award-winning features page designer for a daily newspaper with a wide range of media and journalism experience. She's also a certifiable fangirl and an authority on fantasy literature and culture. Jennifer is a member of Romance Writers of America, Science Fiction and Fantasy Writers of America, and other writing groups.