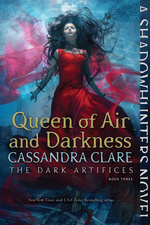 What if damnation is the price of true love? Innocent blood has been spilled on the steps of the Council Hall, the sacred stronghold of the Shadowhunters. Their society now teeters on the brink of civil war. One fragment of the Blackthorn family flees to Los Angeles, seeking to discover the source of the disease that is destroying the race of warlocks. Meanwhile, Julian and Emma take desperate measures to put their forbidden love aside and undertake a perilous mission to Faerie to retrieve the Black Volume of the Dead. What they find there is a secret that may tear the Shadow World asunder and open a dark path into a future they could never have imagined. Caught in a race against time, Emma and Julian must save the world of the Shadowhunters before a deadly curse destroys them and everyone they love.
Udgivet af Simon & Schuster
Cassandra Clare
Judith Lewis (née Rumelt, born July 27, 1973), better known by her pen name Cassandra Clare, is an American author of young adult fiction, best known for her bestselling series The Mortal Instruments. In 2004, Clare started working on her first-published novel, City of Bones, inspired by the urban landscape of Manhattan. City of Bones was released by Simon & Schuster in 2007 and is a contemporary fantasy story revolving around characters Clary Fray, Jace Wayland, and Simon Lewis, which became a The New York Times bestseller upon its release. City of Ashes and City of Glass completed the first trilogy. A subsequent second trilogy contained three more books: City of Fallen Angels, City of Lost Souls, and City of Heavenly Fire. There is a prequel trilogy called The Infernal Devices, which is set in the same universe as The Mortal Instruments, but set in the Victorian era. A fourth trilogy set in this universe was announced in 2012, to be collectively known as The Dark Artifices. There are also two series of interconnected short stories set in this universe. The first is The Bane Chronicles, completed in 2014 and written with Sarah Rees Brennan and Maureen Johnson, and the second is the planned Tales from the Shadowhunter Academy, written with Brennan and Johnson as well as Robin Wasserman.