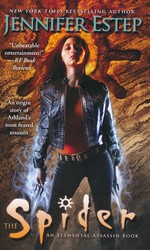 For the first time, the full origin story of Gin Blanco's transformation into the fearsome assassin known as the Spider—book ten in the red-hot Elemental Assassin urban fantasy series. In a prequel tale, Gin Blanco goes through her paces on the way to become the most feared assassin in the Ashland. Her mentor, Fletcher Lane, is not going to go easy on her—if she's going to become a fearsome killer, she has to learn to use her elemental Stone and Ice powers alongside old-fashioned human street smarts.
Udgivet af Pocket Books
Jennifer Estep
By night, Jennifer Estep is an author, prowling the streets of her imagination in search of her next fantasy idea. Jennifer writes the Elemental Assassin urban fantasy series. The books focus on Gin Blanco, an assassin codenamed the Spider who can control the elements of ice and stone. When she's not busy killing people and righting wrongs, Gin runs a barbecue restaurant called the Pork Pit in the fictional southern metropolis of Ashland. The city is also home to giants, dwarves, vampires, and elementals – Air, Fire, Ice, and Stone. Jennifer is also the author of the Bigtime paranormal romance series for Berkley. The Bigtime books feature sexy superheroes, evil ubervillains, and smart, sassy gals looking for love. By day, Jennifer is an award-winning features page designer for a daily newspaper with a wide range of media and journalism experience. She's also a certifiable fangirl and an authority on fantasy literature and culture. Jennifer is a member of Romance Writers of America, Science Fiction and Fantasy Writers of America, and other writing groups.