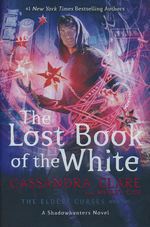 Life is good for Magnus Bane and Alec Lightwood. They're living together in a fabulous loft, their warlock son, Max, has started learning to walk, and the streets of New York are peaceful and quiet—as peaceful and quiet as they ever are, anyway. Until the night that two old acquaintances break into Magnus's apartment and steal the powerful Book of the White. Now Magnus and Alec will have to drop everything to get it back. They need to follow the thieves to Shanghai, they need to call some backup to accompany them, and they need a babysitter. Also, someone has stabbed Magnus with a strange magical weapon and the wound is glowing, so they have that to worry about too. Fortunately, their backup consists of Clary, Jace, Isabelle, and newly minted Shadowhunter Simon. In Shanghai, they learn that a much darker threat awaits them. Magnus's magic is growing unstable, and if they can't stop the demons flooding into the city, they might have to follow them all the way back to the source—the realm of the dead. Can they stop the threat to the world? Will they make it back home before their kid completely wears out Alec's mom?
Udgivet af Simon & Schuster
Cassandra Clare
Judith Lewis (née Rumelt, born July 27, 1973), better known by her pen name Cassandra Clare, is an American author of young adult fiction, best known for her bestselling series The Mortal Instruments. In 2004, Clare started working on her first-published novel, City of Bones, inspired by the urban landscape of Manhattan. City of Bones was released by Simon & Schuster in 2007 and is a contemporary fantasy story revolving around characters Clary Fray, Jace Wayland, and Simon Lewis, which became a The New York Times bestseller upon its release. City of Ashes and City of Glass completed the first trilogy. A subsequent second trilogy contained three more books: City of Fallen Angels, City of Lost Souls, and City of Heavenly Fire. There is a prequel trilogy called The Infernal Devices, which is set in the same universe as The Mortal Instruments, but set in the Victorian era. A fourth trilogy set in this universe was announced in 2012, to be collectively known as The Dark Artifices. There are also two series of interconnected short stories set in this universe. The first is The Bane Chronicles, completed in 2014 and written with Sarah Rees Brennan and Maureen Johnson, and the second is the planned Tales from the Shadowhunter Academy, written with Brennan and Johnson as well as Robin Wasserman.