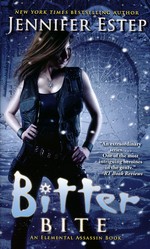 Which is stronger: blood ties or a battle-tested friendship? That's the question Gin Blanco asks when a friend's long-lost relative strolls into town. The suspicious reunion is a surprise for everyone—and a big problem for Gin. Book fourteen in the New York Times bestselling urban fantasy series RT Book Reviews calls "unbeatable entertainment!" It's not easy being queen bee of an underworld abuzz with crooks and killers. Wielding my potent Ice and Stone elemental magic will only get me so far—my real secret is my tight-knit makeshift family, a motley crew of cops and criminals, dwarves and playboys. My foster brother Finnegan Lane is my right-hand man, but when his suddenly not-dead relative comes back into the picture, I'm the one on the outside looking in. It's funny how life works: one minute your best friend is rock-steady, and the next he's doe-eyed and buying into this whole loving-relative routine to the point of ignoring you. I'd like to be happy for Finn, I really would. But all of my instincts are telling me that beneath the syrupy sweet demeanor and old-fashioned charm, this sudden interloper is planning something. The whole shtick leaves a bitter taste in my mouth. This person might have avoided the grave once, but I'll put anyone who hurts Finn in the ground—for good.
Udgivet af Pocket Books
Jennifer Estep
By night, Jennifer Estep is an author, prowling the streets of her imagination in search of her next fantasy idea. Jennifer writes the Elemental Assassin urban fantasy series. The books focus on Gin Blanco, an assassin codenamed the Spider who can control the elements of ice and stone. When she's not busy killing people and righting wrongs, Gin runs a barbecue restaurant called the Pork Pit in the fictional southern metropolis of Ashland. The city is also home to giants, dwarves, vampires, and elementals – Air, Fire, Ice, and Stone. Jennifer is also the author of the Bigtime paranormal romance series for Berkley. The Bigtime books feature sexy superheroes, evil ubervillains, and smart, sassy gals looking for love. By day, Jennifer is an award-winning features page designer for a daily newspaper with a wide range of media and journalism experience. She's also a certifiable fangirl and an authority on fantasy literature and culture. Jennifer is a member of Romance Writers of America, Science Fiction and Fantasy Writers of America, and other writing groups.