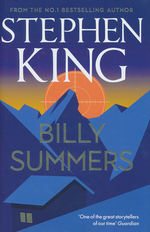 Billy Summers is a man in a room with a gun. He's a killer for hire and the best in the business. But he'll do the job only if the target is a truly bad guy. And now Billy wants out. But first there is one last hit. Billy is among the best snipers in the world, a decorated Iraq war vet, a Houdini when it comes to vanishing after the job is done. So what could possibly go wrong? How about everything. This spectacular can't-put-it-down novel is part war story, part love letter to small town America and the people who live there, and it features one of the most compelling and surprising duos in King fiction, who set out to avenge the crimes of an extraordinarily evil man. It's about love, luck, fate, and a complex hero with one last shot at redemption. You won't put this story down, and you won't forget Billy.
Udgivet af Hodder & Stoughton
Stephen King
Stephen Edwin King (born September 21, 1947) is an American author of contemporary horror and suspense fiction; he has also written sci-fi and fantasy novels. When King was two years old, his father, who was a merchant seaman, left the family under the pretense of "going to buy a pack of cigarettes," leaving his mother to raise King and his adopted older brother David by herself, sometimes under great financial strain. As a child, King apparently witnessed one of his friends being struck and killed by a train, though he has no memory of the event. His family told him that after leaving home to play with the boy, King returned, speechless and seemingly in shock. Only later did the family learn of the friend's death. Some commentators have suggested that this event may have psychologically inspired some of King's darker works, but King himself has dismissed the idea. King's primary inspiration for writing horror fiction was related in detail in his 1981 non-fiction Danse Macabre, in a chapter titled "An Annoying Autobiographical Pause". King makes a comparison of his uncle successfully dowsing for water using the bough of an apple branch with the sudden realization of what he wanted to do for a living. While browsing through an attic with his elder brother, King uncovered a paperback version of an H. P. Lovecraft collection of short stories that had belonged to his father. The cover art—an illustration of a monster hiding within the recesses of a hell-like cavern beneath a tombstone—was, he writes, "the moment of my life when the dowsing rod suddenly went down hard ... as far as I was concerned, I was on my way." More than 350 million copies of King's novels and short story collections have been sold, and many of his stories have been adapted for film, television, and other media. King has written a number of books using the pen name Richard Bachman, and one short story, "The Fifth Quarter", as John Swithen. In 2003 the National Book Foundation awarded King the Medal for Distinguished Contribution to American Letters. He and his wife own and occupy three different houses, one in Bangor, one in Center, Lovell, Maine, and they regularly winter in their waterfront mansion located off the Gulf of Mexico, in Sarasota, Florida. He and Tabitha have three children and three grandchildren.