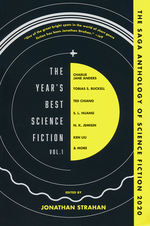 A must-have collection of the best short science fiction and speculative fiction of 2019, showcasing brilliant talent and examining the cultural moment we live in, compiled by award-winning editor Jonathan Strahan. With short works from some of the most lauded science fiction authors, as well as rising stars, this collection displays the top talent and the cutting-edge cultural moments that affect our lives, dreams, and stories. Authors include past award-winners Rebecca Roanhorse, Ken Liu, Carmen Maria Machado, Aliette de Boddard, Kim Stanley Robinson, Yoon Ha Lee, and Ted Chiang. An assemblage of future classics, this anthology is a must-read for anyone who enjoys the vast and exciting world of science fiction.
Udgivet af Saga Press
Jonathan (Ed.) Strahan
Jonathan Strahan (born 1964 in Belfast, Northern Ireland) is an editor and publisher of science fiction. In 1990 he co-founded Eidolon: The Journal of Australian Science Fiction and Fantasy, and worked on it as co-editor and co-publisher until 1999. As a freelance editor, Jonathan has edited or co-edited forty-one original and reprint anthologies, and seventeen single-author story collections which have been published in Australia and the United States. Jonathan currently co-hosts the weekly Coode Street Podcast with Gary K. Wolfe, which has been nominated for the British Science Fiction Award, the Ditmar Award, and the Hugo Award.