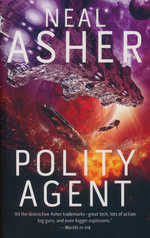 From eight hundred years in the future, a runcible gate is opened into the Polity and those coming through it have been sent specially to take the alien maker back to its home civilization in the Small Magellanic cloud. Once these refugees are safely through, the gate itself is rapidly shut downbecause something alien is pursuing them. The gate is then dumped into a nearby sun. From those refugees who get through, agent Cormac learns that the Maker civilization has been destroyed by pernicious virus known as the Jain technology. This, of course, raises questions: why was Dragon, a massive biocontruct of the Makers, really sent to the Polity; why did a Jain node suddenly end up in the hands of someone who could do the most damage with it? Meanwhile an entity called the Legate is distributing pernicious Jain nodes and a renegade attack ship, The King of Hearts, has encountered something very nasty outside the Polity itself.
Udgivet af Night Shade Books
Neal Asher
Neal Asher (born 4 February 1961 in Billericay, Essex, England) is an English science fiction writer. Both of Asher's parents are educators and science fiction fans. Although he began writing speculative fiction in secondary school, Asher did not turn seriously to writing until he was 25. Asher identifies The Lord of the Rings, The Hobbit and other fantasy work including Roger Zelazny's The Chronicles of Amber series as important early creative influences. The majority of Asher's work is set in one future history, the "Polity" universe. It encompasses many classic science fiction tropes including world-ruling artificial intelligences, androids, hive minds and aliens. His novels are characterized by fast-paced action and violent encounters. While his work is frequently epic in scope and thus nominally space opera, its graphic and aggressive tone is more akin to cyberpunk. When combined with the way that Asher's main characters are usually acting to preserve social order or improve their society (rather than disrupt a society they are estranged from), these influences could place his work in the subgenre known as post-cyberpunk.