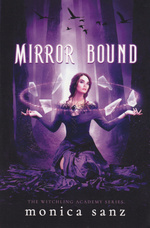 Endlessly romantic and beautifully dark, the second book in the Witchling Academy series delves into themes of forbidden romance, betrayal, and the cost of power. Seraphina Dovetail, the seventh-born daughter of a witch, is desperate to find her family—a task made difficult both because she has no memory prior to two years ago and because of her recent expulsion from the Aetherium Witchling Academy. All she has left is hope—and her position as assistant to the young alchemy professor and moonlighting detective Nicolai Barrington. When Barrington begins to sideline her during investigations, Sera has had enough. In spite of their growing attraction—she knows there is no future in a romance with him—she's determined to master the skills needed to find her family. And if that means taking on her own investigation behind Barrington's back, so be it. When a girl plunges to her death, Sera is determined to uncover why the girl haunts her reflection in a mirror. But then an academy student goes missing, and soon after, their souls appear trapped in the mirror. As Sera tries to discover who is confining them, she uncovers a conspiracy to destroy the Witchling world. There's more here than meets the eye…and looking too deeply could have deadly consequences.
Udgivet af Entangled Teen
Monica Sanz
Monica Sanz has been writing from the moment she could string together a sentence. Her stories have come a long way from mysterious portals opening in the school cafeteria, transporting classmates to distant worlds. She's been lost to dark romances and brooding fictional men ever since. Now she writes about grumpy professors, cursed ringmaster, tortured soul collectors, and the girls they fall in love with.