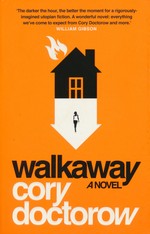 In a world wrecked by climate change, in a society owned by the ultra-rich, in a city hollowed out by industrial flight, Hubert, Etc, Seth and Natalie have nowhere else to be and nothing better to do. But there is another way. After all, now that anyone can design and print the basic necessities of life – food, clothing, shelter – from a computer, there is little reason to toil within the system. So, like thousands of others in the mid-21st century, the three of them turn their back on the world of rules, jobs, the morning commute and... walkaway. It's a dangerous world out there; the empty, lawless lands are hiding predators – animal and human alike. Still, when the initial pioneer walkaways flourish, the few become many, building what threatens to become a post-scarcity utopia. But then the walkaways discover the one thing the ultra-rich have never been able to buy: how to beat death. And now it's war – a war that will turn the world upside down.
Udgivet af Head of Zeus
Cory Doctorow
Born in Toronto, Ontario, Canada to Trotskyist teachers, Doctorow was raised in a Jewish activist household. His father was born in a refugee camp in Azerbaijan and Doctorow became involved in the nuclear disarmament movement and as a Greenpeace campaigner as a child. He received his high school diploma from SEED School, a free school in Toronto, and dropped out of four universities without attaining a degree. In June 1999, he co-founded the free software P2P software company Opencola with John Henson and Grad Conn. The company was sold to the Open Text Corporation of Waterloo, Ontario in the summer of 2003. Doctorow's first novel, was published in January 2003, and was the first novel released under one of the Creative Commons licenses, allowing readers to circulate the electronic edition as long as they neither made money from it nor used it to create derived works. The electronic edition was released simultaneously with the print edition. In March 2003, it was re-released under a different Creative Commons license that allowed derivative works such as fan fiction, but still prohibited commercial usage. A semi-sequel short story called Truncat was published on Salon.com in August 2003. In 2009, Doctorow became the first Independent Studies Scholar in Virtual Residence at the University of Waterloo in Ontario, Canada. He was formerly a student in the program in 1993-94, but left without completing a thesis. Doctorow is married to Alice Taylor, and together they have one daughter, named Poesy Emmeline Fibonacci Nautilus Taylor Doctorow, who was born in 2008. Cory Doctorow and Alice Taylor married on Sunday, October 26, 2008.