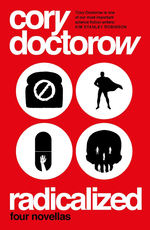 In Cory Doctorow's new novellas, corporations provide welfare: but only if you use their DRM'd devices: toasters that won't toast third-party bread, dishwashers that won't wash third-party dishes. It all started with Salima. Fresh out of a refugee detention centre in Arizona, she's housed in the exclusive Dorchester Towers. For the first time in months, she has her own bedroom, a bathtub she can lie down in if she squinches her legs and tucks her chin. But it's a tower block divided into 'us' and 'them': elevators with a poor-door and a rich-person door. Even the pettiest amenity is spitefully denied to subsidy tenants like Salima – then one day Salima's Boulangism toaster won't accept her overpriced Boulangism-approved bread. So she hacks into the toaster – with its USB ports and Ethernet jacks – to reprogramme and toast unauthorised bread. If she can hack a toaster, then maybe she can hack an elevator. Now it's a tower block that has decided to fight back...
Udgivet af Head of Zeus
Cory Doctorow
Born in Toronto, Ontario, Canada to Trotskyist teachers, Doctorow was raised in a Jewish activist household. His father was born in a refugee camp in Azerbaijan and Doctorow became involved in the nuclear disarmament movement and as a Greenpeace campaigner as a child. He received his high school diploma from SEED School, a free school in Toronto, and dropped out of four universities without attaining a degree. In June 1999, he co-founded the free software P2P software company Opencola with John Henson and Grad Conn. The company was sold to the Open Text Corporation of Waterloo, Ontario in the summer of 2003. Doctorow's first novel, was published in January 2003, and was the first novel released under one of the Creative Commons licenses, allowing readers to circulate the electronic edition as long as they neither made money from it nor used it to create derived works. The electronic edition was released simultaneously with the print edition. In March 2003, it was re-released under a different Creative Commons license that allowed derivative works such as fan fiction, but still prohibited commercial usage. A semi-sequel short story called Truncat was published on Salon.com in August 2003. In 2009, Doctorow became the first Independent Studies Scholar in Virtual Residence at the University of Waterloo in Ontario, Canada. He was formerly a student in the program in 1993-94, but left without completing a thesis. Doctorow is married to Alice Taylor, and together they have one daughter, named Poesy Emmeline Fibonacci Nautilus Taylor Doctorow, who was born in 2008. Cory Doctorow and Alice Taylor married on Sunday, October 26, 2008.