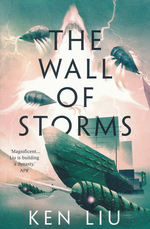 Kuni Garu, now known as Emperor Ragin, runs the archipelago kingdom of Dara, but struggles to maintain progress while serving the demands of the people and his vision. Then an unexpected invading force from the Lyucu empire in the far distant west comes to the shores of Dara—and chaos results. But Emperor Kuni cannot go and lead his kingdom against the threat himself with his recently healed empire fraying at the seams, so he sends the only people he trusts to be Dara's savvy and cunning hopes against the invincible invaders: his children, now grown and ready to make their mark on history.
Udgivet af Head of Zeus
Ken Liu
Ken Liu is an author of speculative fiction, as well as a translator, lawyer, and programmer. A winner of the Nebula, Hugo, and World Fantasy awards, he has been published in The Magazine of Fantasy & Science Fiction, Asimov's, Analog, Clarkesworld, Lightspeed, and Strange Horizons, among other places. Ken's debut novel, The Grace of Kings (2015), is the first volume in a silkpunk epic fantasy series, The Dandelion Dynasty. It won the Locus Best First Novel Award and was a Nebula finalist. He subsequently published the second volume in the series, The Wall of Storms (2016) as well as a collection of short stories, The Paper Menagerie and Other Stories (2016). He also wrote the Star Wars novel, The Legends of Luke Skywalker (2017). In addition to his original fiction, Ken also translated numerous literary and genre works from Chinese to English. His translation of The Three-Body Problem, by Liu Cixin, won the Hugo Award for Best Novel in 2015, the first translated novel ever to receive that honor. He also translated the third volume in Liu Cixin's series, Death's End (2016) and edited the first English-language anthology of contemporary Chinese science fiction, Invisible Planets (2016). He lives with his family near Boston, Massachusetts.