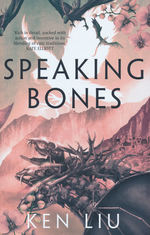 Ukyu-Gondé. Stalked by foes and dogged by betrayal, Princess Théra is pursued across a continent vaster than she could ever have imagined, to the hidden valleys of the World's Edge Mountains, into the barrows and subterranean halls of the City of Ghosts, across the ice floes of the far north. She breached the Wall of Storms intent on taking war to the Lyucu homelands, but how do you conquer the unconquerable? Dara. Empress Jia, Prince Phyro and Pékyu Tanvanaki find themselves bound to paths they never would have chosen. Amid atrocity and subterfuge, they will discover that the Courage of Brutes is no substitute for the Grace of Kings, and that little separates the Grace of Kings from the Madness of Tyrants. On both sides of the Wall of Storms, defeat's bitter tears mix with the fruits of knowledge new and ancient as two empires bound by blood and bone, by writ and iron, by time and custom, face a whirlwind that threatens to utterly consume them. The teeth, as they say, are on the board.
Udgivet af Head of Zeus
Ken Liu
Ken Liu is an author of speculative fiction, as well as a translator, lawyer, and programmer. A winner of the Nebula, Hugo, and World Fantasy awards, he has been published in The Magazine of Fantasy & Science Fiction, Asimov's, Analog, Clarkesworld, Lightspeed, and Strange Horizons, among other places. Ken's debut novel, The Grace of Kings (2015), is the first volume in a silkpunk epic fantasy series, The Dandelion Dynasty. It won the Locus Best First Novel Award and was a Nebula finalist. He subsequently published the second volume in the series, The Wall of Storms (2016) as well as a collection of short stories, The Paper Menagerie and Other Stories (2016). He also wrote the Star Wars novel, The Legends of Luke Skywalker (2017). In addition to his original fiction, Ken also translated numerous literary and genre works from Chinese to English. His translation of The Three-Body Problem, by Liu Cixin, won the Hugo Award for Best Novel in 2015, the first translated novel ever to receive that honor. He also translated the third volume in Liu Cixin's series, Death's End (2016) and edited the first English-language anthology of contemporary Chinese science fiction, Invisible Planets (2016). He lives with his family near Boston, Massachusetts.