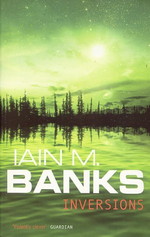 On a backwards world with six moons, an alert spy reports on the doings of one Dr. Vosill, who has mysteriously become the personal physician to the king, despite being a foreigner and, even more unthinkably, a woman. Vosill hasmore enemies than she first realizes. But then she also has more remedies to hand than those who wish her ill can ever guess.Elsewhere, in another palace across the mountains, a man named DeWar serves as chief bodyguard to the Protector General of Tassasen, a profession he describes as the business of "assassinating assassins." DeWar, too, hashis enemies, but his foes strike more swiftly, and his means of combatting them are more direct.None trust the doctor, while the bodyguard trusts no one, but what is the hidden commonality linking their disparate histories? Spiraling around a central core of mystery, deceit, love, and betrayal, Inversions is a dazzling work of science fiction from a versatile and imaginative author writing at the height of his remarkable powers.About the Author:Iain M. Banks, one of the United Kingdom's bestselling authors of science fiction, has written such highly-regarded novels as Excession, Feersum Endjinn, Use of Weapons, The State of the Art, and Against a Dark Background. As "Iain Banks," he also writes mainstream novels, including The Wasp Factory and A Song of Stone. He lives in Scotland.
Udgivet af Orbit 1905
Iain M. Banks
Iain [Menzies] Banks was born in Fife in 1954, and was educated at Stirling University, where he studied English Literature, Philosophy and Psychology. Banks came to widespread and controversial public notice with the publication of his first novel, The Wasp Factory, in 1984. His first science fiction novel, Consider Phlebas, was published in 1987. He has continued to write both mainstream fiction (as Iain Banks) and science fiction (as Iain M. Banks). He is now acclaimed as one of the most powerful, innovative and exciting writers of his generation: The Guardian has called him "the standard by which the rest of SF is judged". William Gibson, the New York Times-bestselling author of Spook Country describes Banks as a "phenomenon". Iain M. Banks lives in Fife, Scotland.