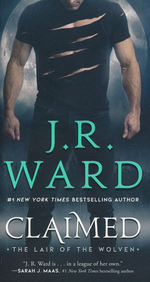 Lydia Susi is passionate about protecting wolves in their natural habitat. When a hotel chain develops a tract of land next to the preserve, Lydia is one of the most vocal opponents of the project—and becomes a target. One night, a shadowy figure threatens Lydia's life in the forest, and a new hire at the Wolf Study Project comes from out of nowhere to save her. Daniel Joseph is both mysterious, and someone she intrinsically wants to trust. But is he hiding something? As the stakes get higher, and one of Lydia's colleagues is murdered, she must decide how far she will go to protect the wolves. Then a shocking revelation about Daniel challenges Lydia's reality in ways she could never have predicted. Some fates demand courage, others require even more, with no guarantees. Is she destined to have true love... or will a soul-shattering loss ruin her forever?
Udgivet af Pocket Books
J.R. Ward
J.R. Ward is a #1 New York Times and USAToday Best Selling author of erotic paranormal romance. She lives in the south with her "incredibly supportive husband" and her beloved golden retriever. After graduating from law school, she began working in healthcare in Boston and spent many years as Chief of Staff of one of the premier academic medical centers in the nation. Writing has always been her passion and her idea of heaven is a whole day of nothing but her computer, her dog and her coffee pot.