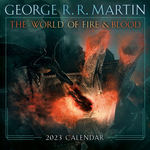 The Dance of the Dragons is the most infamous period in Westerosi history, in which two legitimate claimants for the Iron Throne, along with their supporters—and their dragons!—fought for the right to sit that infamous chair. Now in the pages of this epic calendar—the first-ever focused exclusively on material from George R. R. Martin's Fire & Blood—a selection of artists unveil thirteen original images from the glorious and bloody days when the Targaryens reigned supreme, and their dragons held dominion over the skies.
Udgivet af Bantam Doubleday Dell Publishing Co., Inc.
George R.R. Martin
George R.R. Martin was born September 20, 1948 in Bayonne, New Jersey. Martin attended Mary Jane Donohoe School and Marist High School. He began writing very young, selling monster stories to other neighborhood children for pennies, dramatic readings included. Later he became a comic book fan and collector in high school, and began to write fiction for comic fanzines (amateur fan magazines). Martin's first professional sale was made in 1970 at age 21: "The Hero," sold to Galaxy, published in February, 1971 issue. Other sales followed. In 1970 Martin received a B.S. in Journalism from Northwestern University, Evanston, Illinois, graduating summa cum laude. He went on to complete a M.S. in Journalism in 1971, also from Northwestern. As a conscientious objector, Martin did alternative service 1972-1974 with VISTA, attached to Cook County Legal Assistance Foundation. He also directed chess tournaments for the Continental Chess Association from 1973-1976, and was a Journalism instructor at Clarke College, Dubuque, Iowa, from 1976-1978. He wrote part-time throughout the 1970s while working as a VISTA Volunteer, chess director, and teacher. In 1975 he married Gale Burnick. They divorced in 1979, with no children. Martin became a full-time writer in 1979. He was writer-in-residence at Clarke College from 1978-79. Moving on to Hollywood, Martin signed on as a story editor for Twilight Zone at CBS Television in 1986. In 1987 Martin became an Executive Story Consultant for Beauty and the Beast at CBS. In 1988 he became a Producer for Beauty and the Beast, then in 1989 moved up to Co-Supervising Producer. He was Executive Producer for Doorways, a pilot which he wrote for Columbia Pictures Television, which was filmed during 1992-93. Martin's present home is Santa Fe, New Mexico. He is a member of Science Fiction & Fantasy Writers of America (he was South-Central Regional Director 1977-1979, and Vice President 1996-1998), and of Writers' Guild of America, West.