Browse titler af samme forfatter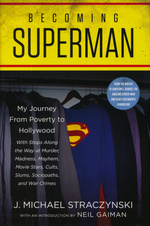 For four decades, J. Michael Straczynski has been one of the most successful writers in Hollywood, one of the few to forge multiple careers in movies, television and comics. Yet there's one story he's never told before: his own. In this dazzling memoir, the acclaimed writer behind Babylon 5, Sense8, Clint Eastwood's Changeling and Marvel's Thor reveals how the power of creativity and imagination enabled him to overcome the horrors of his youth and a dysfunctional family haunted by madness, murder and a terrible secret. Joe's early life nearly defies belief. Raised by damaged adults—a con-man grandfather and a manipulative grandmother, a violent, drunken father and a mother who was repeatedly institutionalized—Joe grew up in abject poverty, living in slums and projects when not on the road, crisscrossing the country in his father's desperate attempts to escape the consequences of his past. To survive his abusive environment Joe found refuge in his beloved comics and his dreams, immersing himself in imaginary worlds populated by superheroes whose amazing powers allowed them to overcome any adversity. The deeper he read, the more he came to realize that he, too, had a superpower: the ability to tell stories and make everything come out the way he wanted it. But even as he found success, he could not escape a dark and shocking secret that hung over his family's past, a violent truth that he uncovered over the course of decades involving mass murder. Straczynski's personal history has always been shrouded in mystery. Becoming Superman lays bare the facts of his life: a story of creation and darkness, hope and success, a larger-than-life villain and a little boy who became the hero of his own life. It is also a compelling behind-the-scenes look at some of the most successful TV series and movies recognized around the world.
Udgivet af Harper Collins US
J. Michael Straczynski
Joseph Michael Straczynski (born July 17, 1954), known professionally as J. Michael Straczynski and informally as Joe Straczynski or JMS, is an American writer and television producer. He works in a variety of media, including films, television series, novels, short stories, comic books, and radio dramas. He is also a playwright, former journalist and author of The Complete Book of Scriptwriting, a well-regarded tome on the subject. He was the creator and showrunner for the science fiction TV series Babylon 5, its spin-off Crusade, and Jeremiah. Straczynski is the author of three horror novels — Demon Night, Othersyde, and Tribulations — and nearly twenty short stories, many of which are collected in two compilations — Tales from the New Twilight Zone and Straczynski Unplugged. He wrote the outlines for nine of the canonical Babylon 5 novels, personally supervised the three produced B5 telefilm novelizations (In the Beginning, Thirdspace, and A Call to Arms), and is the author of four Babylon 5 short stories. Straczynski has also been a journalist, reviewer, and investigative reporter, publishing over 500 articles in such publications as the Los Angeles Times, the Los Angeles Herald-Examiner, Writer's Digest, Penthouse, San Diego Magazine, Twilight Zone Magazine, the San Diego Reader, the Los Angeles Reader and Time. Straczynski has also been a long-time participant in Usenet and other early computer networks, interacting with fans through various online forums (including GEnie, CompuServe, and America Online) since 1984. Straczynski is a graduate of San Diego State University (SDSU), having earned a Bachelor's degree with a double major in psychology and sociology (with minors in philosophy and literature). Straczynski currently resides in the Los Angeles area.